Omar Hady and Jiv Parasaram
Greta chats with the team behind To the Last Cry and The Lost Sagas of Tjorvi the Flaccid.  Pandemic Theatre and Theatrelab have teamed up to present the double bill at the Factory Studio Theatre March 20th-24th.
JIV AND OMAR'S TIPS FOR DOUBLE BILLS
Keep an open dialogue at all times between production partners.
Maintain a "Road House" mentality. Keep your tech tight, flexible and ready to go!  This saves on tech time, and keeps you prepared for everything that will go wrong!
It's all about the collective.  No competition only joint success.  Choose your team based on their love for what the whole project is about.  The last thing you need is division.
CONTEST FOR FREE TICKETS!
E-mail tix@pandemictheatre.ca to be entered in a draw for a pair of tickets for opening night WEDNESDAY MARCH 20th. Put Free Tix in the heading.
---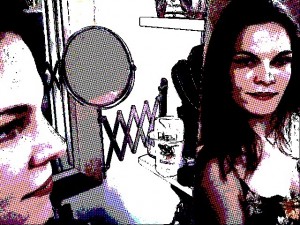 Greta Papageorgiu is an actor, teacher and director. She has taught and performed in Ontario, Quebec and Germany.  Her next class starts April 2nd at The Fringe Creation Lab. For details go to meisnerwithgreta.ca.